Now in its fourth year, Dialogs LA will present a series of talks and panel discussions featuring artists, collectors, museum directors, curators and internationally renowned art and cultural thought leaders. Dialogs LA will take place each day in Booth# TBC
3pm – Mel Ramos: His Life's Works
Speaker: Mel Ramos, Recipient of the 2017 Lifetime Achievement Award from LA ART SHOW
Dialog: Mel reflects on his life and his work spanning over 40 years, sharing his inspirations and his journey from 1960 to present day.

About the Artist: Mel Ramos is an American Pop artist best known for his female nudes painted alongside brand logos.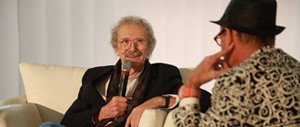 Read More
View The Dialog Lecture Series Videos
5pm – In Conversation With Michael Netter
Speaker: Michael Netter
Dialog: Artist Michael Netter will present excerpts from his 200 videos documenting Andy Warhol and his circle, followed by a conversation about this fertile moment in art history and how it influenced his artistic and commercial work.
Read More
View The Dialog Lecture Series Videos